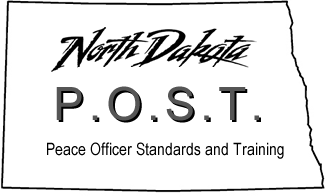 RECENT NEWS
Online Use of Force Examination
As of August 1, 2022, the Use of Force examination will be administered online and the POST Board Office will no longer accept email or paper submissions of the Use of Force answer sheet. To access the online version of the test, please call or email the POST Board office and arrangements will be made to forward the link to the weapons instructor who will be proctoring the test.
Reserve Officer Information
Current reserve officers who wish to continue to be reserve officers or deputies need be licensed by POST. Those individuals will need to meet minimum license requirements.
Minimum Requirements for Current Reserve Officers
Changes to the Process for Peace Office Licensing, Renewals, New Employment, and Employment Termination
As of July 1, 2019, all peace officer license applications, license renewals, new employment, and employment termination requests need to be made through the portal. This is done within the North Dakota Criminal Justice Application which is located on the North Dakota Attorney General website.
Training Certification Information
Letter To All Law Enforcement Agency Administrators and Training Officers
Law Change
The 2011 Legislative Session created a new law regarding peace officer licensing.   This law allows for renewal of a peace officer's license up to one (1) year after expiration of the license.   Inactive license holders are required to meet the same qualifications, testing, and insurance requirements as are required by law and rule for a licensee on active status. There is no provision for reinstatement of licenses.